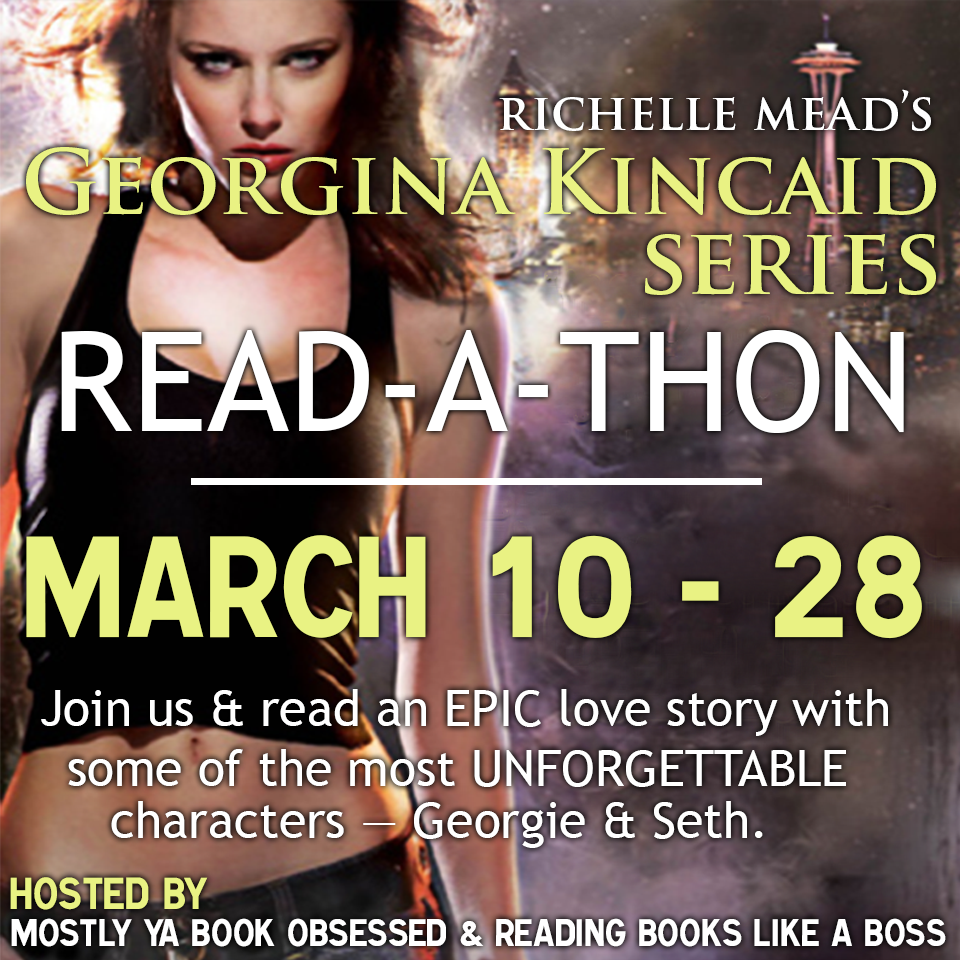 I have had the first book in this series on my shelf for some time so I decided it might be a good idea to try to read at least the first few books of this during the read-a-thon. Of course I hope to be able to read the whole series but I do have a tight school schedule so who knows.
Here is all of the information to join:
"Nereyda from Mostly YA Book Obsessed and I are hosting a READ-A-THON for one of our FAVORITE series EVER — the Georgina Kincaid series by Richelle Mead.  Check out the suggested reading schedule below.  This will help you get an idea of the pacing, so that you can finish the series during the read-a-thon.
ANYONE CAN JOIN!  You don't have to be a blogger.
You can sign up as a reader.  The more the merrier.
CLICK HERE TO SIGN UP
You're probably so sick of us blabbing on and on about the Georgina Kincaid series by now, right?  Sorry we're not sorry.  Whether you're a paranormal fan or not, this series will appeal to you (or at least we hope you'd give it a try).  Richelle Mead is such a character craftsman (craftswoman?).  As with all of her series, the characters in the Georgina Kincaid series are unforgettable and each of them has such a story to tell.
The Georgina Kincaid series has an EPIC love story.  I hate using the word "epic." It's so overused, but epic is the appropriate word to use when describing this series. From book one until the very end, I was completely enraptured by the story, the characters, and the plot.  After book three, I couldn't get into any other book. I HAD TO KNOW WHAT HAPPENED NEXT!"
Georgina Kincaid Series Read-A-Thon Suggested Reading Schedule:
Progress:
Succubus Blues (FINISHED March 10th)
Quick Thoughts: Great start to a series! I could hardly put it down and I need more Seth in my life.
Succubus On Top (FINISHED March 13th)
Quick Thoughts: Poor Seth! Georgie I can't believe you did that to him! To my SETH!
Succubus Dreams
Succubus Heat
Succubus Shadows
Succubus Revealed